2 New Free Sites Every Marketer Should Be Using
©2011 Doug Champigny, http://dougchampigny.com
All Rights Reserved Worldwide.
If there's one thing I love, it's finding new free ways for you to grow you Internet marketing, affiliate marketing or niche marketing business online, or help you promote offline businesses online – yours or your clients' offline businesses… So I'm really pleased to have TWO great new free sites for you today – one to help increase web traffic and the other a social media site designed specifically for marketers!
Tyler Huculak & Kramer Huculak, owners & developers over at Logiscape Technologies Inc., have put together 2 powerful sites for the online marketing community, then linked them together to help ensure the long-term success of both sites. And from what I've seen of them so far, they have nothing to worry about there…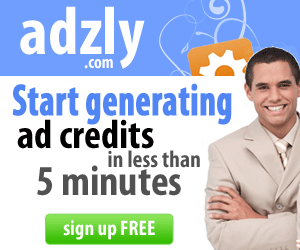 First up, there's Adzly – a system not unlike Tweet Traffic Rush in that the more page views their widget gets on your online properties, the more often your ad shows up on other people's sites. And therein lies the big difference – while Tweet Traffic Rush shows your latest tweet, Adzly shows your ads…
You can sign up for Adzly for free and earn credits both on your own sites and, under some circumstances, on those who sign up directly through you. I decided to take the paid upgrade, in part to be able to show graphics-based ads as well as text ads, and in part for the 30% commission rate on those who sign up through me and upgrade to paid. Free members are limited to text ads, much like the most common form of Adsense ads.
What I like about services like Adzly, Tweet Traffic Rush and such is the snowball effect they tend to have… The busier your sites get, the greater number of ads you serve up and the more your ad is shown, bringing you more traffic again. And using any conversion percentage you like, the more people who see your widget the more signups you could attract under you, again leading to an increase in potential traffic.
So go ahead and get your membership at Adzly now and put the widget on your sites and/or blogs – you can see mine in the sidebar just below the archives on each page of this blog. (By putting it in the sidebar you only need to place the code once to have it show on every post, past, present & future.)
As you cruise around my other blogs you'll see it on most of them, too. Like everything else in Internet marketing, you can just throw it onsite and get some value from it, or promote it actively and do much better with it. And if you take the paid upgrade, be sure to promote it enough to get a few paid members under you so you get the extra 15k – 20k ad impressions for no net cost!
Their second new site is IM faceplate, and as the name implies it's somewhat like Facebook, although it's got a ways to go to reach those traffic levels!
Doesn't matter, though – this one's designed FOR US – the online marketing community… Join IM faceplate for free and take a look around – first thing I noticed was I could add my Twitter feed, some of my blog feeds, the RSS feed for my articles – even my YouTube video feed! That'll be really powerful once we get a lot more of the online marketers using the site, and in the meantime I'm always in favor of any site where I can build my backlinks automatically!
Like all social networking sites, some marketers will take 15 minutes to hook up their feeds and never bother to visit the site, just content to get the backlinks. But those who participate, who promote the site and develop a relationship with the other marketers will be the ones who reap the rewards! Some say Twitter doesn't work for marketers, some say Facebook doesn't – while others are making a bundle from both. You'll get back whatever you put into the community,,,
But most importantly, get in now while it's just a hatchling; it may never be another Twitter or Facebook, but there's still lots of room for growth as the mainstream IM community finds out about it – c'mon aboard now before it's all growed up! 😉
Technorati Tags: free Internet marketing resources, Internet marketing social media sites, Internet marketing, social media, online advertising, free online advertising, social networking, Join Adzly for free, join adzly, adzly, IM faceplate, Tweet Traffic Rush, Logiscape Technologies
Doug Champigny, The Success Lifestylist
, is a world-famous author, speaker and mentor who has been helping corporations, companies, retailers, entrepreneurs and other individuals and organizations to achieve true success for over 30 years so far...
Keep up with Doug Champigny online by following him on
Google+
,
Facebook
,
LinkedIn
,
Twitter
,
FriendFeed
, and
EzineArticles
. For any media enquiries, to have Doug speak at your event or to find out about having Doug mentor you directly, follow the links from the
DougChampigny.com
homepage. Be sure to bookmark this blog and return often for more helpful tips & insights!